Listen here on iTunes: www.thrive.how/itunes
On Android or want to listen via Web? Get it here on Stitcher: www.thrive.how/stitcher
—
I'm getting a little more personal in this episode and talking through what I do to keep myself centered. These are the 3 simple things that I rely on to maintain a connection with my higher self or soul. That is also the part of me that I consider divine, and connected to something much bigger than little old me. It is practical self-help.
From this personal riff you'll find out:
Learn 3 simple habits that can help you deepen your personal soul connection & help keep you grounded in the day-to-day
Recognize that being spiritually connected doesn't necessarily mean crazy rituals or lots of work
And a whole heap more about me, and my journey to connecting with myself
I also mention this prayer from A Course in Miracles (think Gabrielle Bernstein & Marianne Williamson – they teach these principles):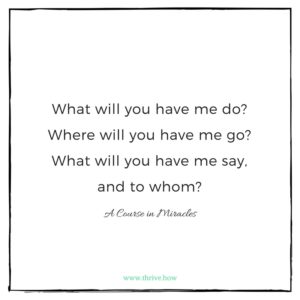 If you'd like to continue the conversation, head over and join the Here to Thrive Facebook group: www.thrive.how/facebook
I talk about some of my favorite things in this episode. They include:
Seat of Your Soul: https://www.amazon.com/Buckwheat-Therapeutic-Meditation-Ergonomic-Removable/dp/B00WS1GB98/ref=lp_12589872011_1_1?srs=12589872011&ie=UTF8&qid=1487911035&sr=8-1&th=1
HeadSpace: https://www.headspace.com/
—
In case you're new, I'm Kate. Hi and welcome! I'm a Life Coach and an idealist. I would love to see a world full of a whole heap more soul, and I know that starts with us connecting deeply with our own wisdom. It's my mission to help as many people as I can learn how to reconnect with their essence so that they can live truly fulfilling lives. I have an MS in Psychology but infuse my book knowledge with a giant dose of Soul. Because as humans, we're more than just our minds; we're also full of heart. To read more about my Thriving Life Project click here.