Listen here on iTunes: www.thrive.how/itunes
On Android? Get it here on Stitcher: www.thrive.how/stitcher
—
In this episode, I'm giving you 3 things that I needed to hear during the times in my life when I felt lost and confused.
We all have these periods. They are a part of the journey that is life. Sometimes we won't know which way to turn, or how to help heal our broken hearts.
My hope is that this episode will:
Soothe your heart, with 3 mantras to help support you through the tough times
Help you feel less alone, as I share my stories of feeling lost in life
Give you guidance on how you can start to help yourself
I mention the free Here to Thrive facebook group. If you'd like to join, jump over here: www.facebook.com/groups/heretothrive
If you'd like a worksheet to help you Write a Letter From Your Future Self click the following link to instantly download a free pdf (no opt-in required) : Letter From Your Future Self Instructions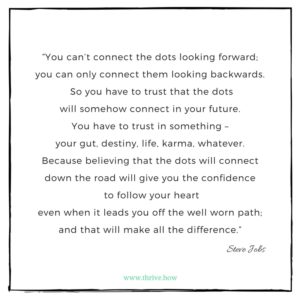 ---
In case you're new, I'm Kate. Hi and welcome! I'm a Life Coach and an idealist. I would love to see a world full of a whole heap more soul, and I know that starts with us connecting deeply with our own wisdom. It's my mission to help as many people as I can learn how to reconnect with their essence so that they can live truly fulfilling lives. I have an MS in Psychology, but infuse my book knowledge with a giant dose of Soul. Because as humans, we're more than just our minds; we're also full of heart. To read more about my Thriving Life Project click here.