I'm your get-to-the-heart of the matter sidekick. I'm here to help you sort the shit out and move forward into a life that makes you feel alive inside.
Kate Snowise
MSc (Hons) Psychology
Associate Member American Psychological Association (APA)
Member International Positive Psychology Association (IPPA)
Associate Member Society for Industrial & Organizational Psychology (SIOP)
Sometimes life can feel a little lackluster, and you can end up with that feeling of
"Really?! Is this it?"
It's not that there is necessarily anything wrong, it's just that it doesn't feel so damn amazingly right either. You could be exhausted, or just feeling like there is a piece missing. Regardless, something feels out of whack. I GET IT.
One that lights us up from the inside and just feels downright amazing. You know those people that walk around looking like they are almost glowing? They have a warm energy, their eyes seem to sparkle, and people just love being in their company.
WE ALL HAVE THE ABILITY TO BE ONE OF THOSE PEOPLE.
Every single one of us has the power to create a beautiful, balanced and happy life for ourselves.
We all have the power to feel all filled up and confident in our own skin. You can connect with your authentic self and start feeling like you're living on purpose rather than having life just happen to you.
I'm Kate, and I'm the founder of Thrive.How. I'm your get-to-the-heart-of-the-matter sidekick who just happens to have a whole heap of knowledge about PSYCHOLOGY, OUR MINDS & WHAT MAKES US DEEP-DOWN HAPPY INSIDE.
In addition to the knowledge, I've also put it into practice myself and found what really works and what doesn't. Thrive.How is here because I believe so many people want more out of life and know it's possible, but just don't know how to get there. I'm here to assist you with the "how" bit.
If you're interested in the backstory, I have an MSc in Psychology and worked as a Corporate Psychologist for five years before becoming a mother. I worked and studied hard to get all that I thought I wanted.
My dream was to be a success in the corporate world. In my mind that meant wearing a business suit, gorgeous heels, working at a management level and being respected for what I did (and I know I'm not the only one who thought success looked like heels and a suit!). I achieved all the things I set out to do by the time I was in my late 20's.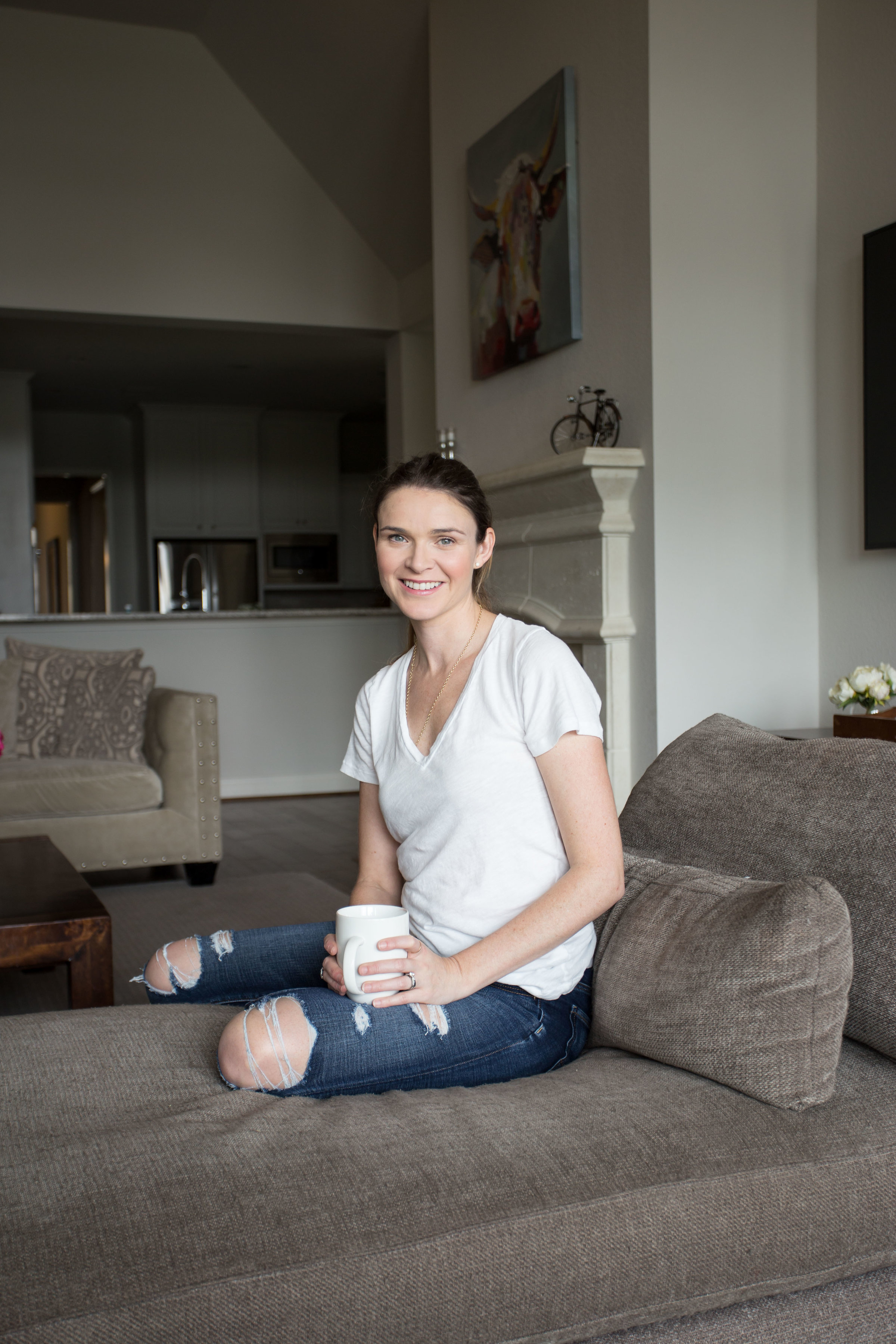 When I realized I had in fact ticked all the boxes that I thought would secure my future happiness, I was disappointed with myself for having a sinking feeling deep inside of "Is this it?"
"Is this what the next 30+ years of my life are going to look like?"
I felt like I should have been grateful for my success, but something still felt like it was missing. I realized that I had achieved the external goals I had chased after, but I had never really thought about how I wanted my life actually to feel.
I WANTED MY LIFE TO FEEL MORE LIKE A JOY THAN A DAILY GRIND, AND I WANTED TO FEEL LIKE I WASN'T MISSING A PUZZLE PIECE.
Motherhood intervened, and I jumped out of the world of corporate consulting and into a period of personal growth and discovery. I applied what I knew about positive psychology and personal connection to my own life and began working out what the missing pieces were. In short, over a last five years, I have firmly cemented my personal happiness, and I feel more complete than ever.
I want as many of my fellow humans to experience true deep-down in ya heart happiness, so I created Thrive.How.
I BELIEVE WE'RE HERE TO DO MORE THAN SURVIVE; WE'RE #HERETOTHRIVE (oh yeah, Instagram me!)
Since launching this business my thoughts and advice have been featured on Huffington Post, Project Happiness, MindBodyGreen and elephant journal. Working with other's to help them get the delicious, good stuff out of life truly lights me up. I now know I'm right where I am supposed to be, doing exactly the work I am supposed to do.
For more information about coaching packages and what a thriving life looks like, head over to "Work With Me" or book a Free Mini Session so we can have a little chat.
A couple of little facts about me:
I live in St Paul, MN
I'm a proud New Zealander or Kiwi if you're in the know
I have 2 little boys and a pack of dogs
I'm mildly obsessed with Corgi's
One of my hobbies is sleep (although with kids, I don't get to indulge it as much as I once did)
If you would like to know more about my professional background you can view my LinkedIn profile by clicking here.