Podcast
Here to Thrive: Tips for a Happier Life
Here to Thrive
is a practical self-help podcast full of tips and tricks to help you live a happier life.
We should all be living a life that feels AMAZING. Each and every one of us should feel genuinely fulfilled and alive.
BUT HOW DO WE GET THAT?
To start with, we need to commit to developing ourselves and giving life everything we've got.
WE HAVE TO TURN OFF OUR AUTO-PILOTS AND REALLY START CONSIDERING HOW WE WANT TO LIVE OUR LIVES. 
Rather than letting life just happen to you, Here to Thrive will give you ideas and insights into how you can live your life on purpose, and really live a life that will make you happy.
I'm Kate Snowise. I'm a Life & Executive Coach with an MS in Psychology. I do this because I truly believe that if we can all be happier within ourselves, we will share that joy and happiness with the world around us. In turn, as we each light up, we will light up the world.
And let's be honest, the world could do with a little more light.
I'm a little bit spiritual and a little bit psychological. Positive psychology is my discipline and love, while spirituality and exploring the things we can't see with our eyes is my passion. I believe they go hand-in-hand when you are talking about creating and living a truly fulfilling life.
I hope you enjoy it!
Kate xx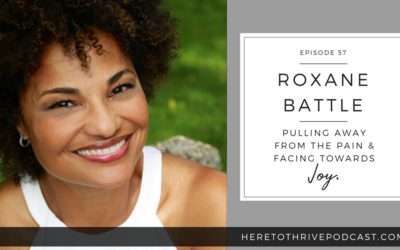 Roxane Battle was a TV Presenter for 20 years and had the picture-perfect, glossy life on the outside. But behind closed doors, she was still facing her own struggles. Her marriage collapsed when her son was 11 months old, and not through any planning whatsoever, she had to pick herself up and create a new life as a single mom.
read more